Alpaca Day 2016
Alpakoterapia to stosunkowo nowa dziedzina zooterapii. Jesteśmy pierwszym i jedynym ośrodkiem w Warszawie, który daje możliwość dzieciom i dorosłym wspomagania zdrowia przy pomocy alpak. Jako zespół Koparki, cały czas się szkolimy i podnosimy swoje kwalifikacje, by jak najlepiej pomagać naszym podopiecznym.
Na początku listopada wzięliśmy udział w długo przez nas wyczekiwanej imprezie Alpaca Day 2016, która odbyła się w mieszczącej się koło Łodzi Stajni Gajewniki. Organizatorami byli: Alpakarnia P&M – Marta i Piotr Pietrzykowscy oraz Alpakotela – Dawid Goral. To była pierwsza tego typu impreza organizowana w Polsce! Organizatorom przyświecał jeden cel: przybliżenie świata alpak innym ludziom. Biorąc pod uwagę frekwencję, jesteśmy pewni, że został osiągnięty.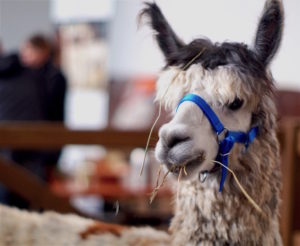 Imprezę zorganizowano w ogromnej hali, gdzie na gości czekały przemiłe alpaki, stoiska z wyrobami włókienniczymi oraz gadżety z motywem tego południowoamerykańskiego ssaka. Odwiedzający mogli uczestniczyć m.in. w profesjonalnym pokazie strzyży, warsztatach rzeźby  w drewnie oraz zobaczyć alpaki specjalnie przygotowane do pracy w alpakoterapii. Wydarzenie umiliły występy peruwiańskiego zespołu Carlos Cano.
Tuż obok hali głównej mieściła się piękna, pachnąca sosną, sala konferencyjna. Odbywały się tam wykłady tematyczne, w których braliśmy udział. Pierwszy dzień konferencji poświęcony był hodowli alpak – omówiono różne aspekty dotyczące zdrowia i utrzymania zwierzęcia. Drugiego dnia prezentowano ocenę jakości hodowlanej alpak oraz wartość ich włókna. My najbardziej czekaliśmy na ostatnie trzy wykłady. Dlaczego? Ponieważ właśnie te zagadnienia są nam najbliższe.
Behawior alpak w kontekście pracy z alpakami – Marta Pietrzykowska- Alpakarnia P&M. Dowiedzieliśmy się na co zwracać uwagę w zachowaniu naszych zwierzaków, które zachowania są pożądane, a które powinnyśmy korygować. Marta mówiła o przyjaźniach alpak i o tym, że nie powinno się trzymać pojedynczych zwierząt. To gatunek stadny i samotność jest dla nich nie do przyjęcia.
Wspomaganie leczenia ludzi przy udziale zwierząt – Hanna Wojciechowska- NOE ADEPTUS w Bydgoszczy. Prowadząca skoncentrowała się na tych cechach alpaki, które czynią ją idealnym towarzyszem w terapii: łagodność, cierpliwość i wygląd zwierzęcia wpływają kojąco na dzieci i dorosłych. Zwierzę szybko się uczy, można zacząć je szkolić we wczesnych etapach życia, kierując się zawsze jego dobrostanem.
Alpakoterapia w praktyce – Karolina Grys. To był wykład kończący drugi dzień konferencji. Alpakoterapeutka przybliżyła istotę pracy z alpakami. Mówiła o tym, jak ważne jest zaufanie zwierzęcia do opiekuna, który zapewnia mu poczucie bezpieczeństwa w trakcie pracy. "Alpaki są wektorem terapii – dodatkową motywacją dla dzieci i nie tylko dla dzieci – dla wszystkich, którzy tego potrzebują".
Gratulujemy Organizatorom Alpaca Day 2016 pomysłu i jego realizacji. To była wielka przyjemność poznać ludzi, którzy tak jak i my są miłośnikami alpak, wymienić się doświadczeniami i nawiązać nowe znajomości. Bo to, co nas łączy to miłość do tych uroczych alpak.
Chcąc dać Wam namiastkę tego, co działo się podczas Alpaca Day 2016, przygotowaliśmy galerię oraz wideorelację Alpaca Day 2016.
Miłego oglądania!
Galeria: https://www.facebook.com/pg/osrodekkoparka/photos/?tab=album&album_id=618537745019952